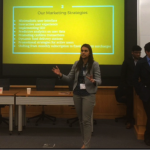 Samiksha Gupta and one IITB team member selected as Global Finalist (1 of top 12 teams out of 16466 teams from across 180 countries) in GGTC (Go Green in the City ) 2016 Global Business Case Challenge. She went to Paris, France as Global Finalist.
Samiksha Gupta was selected as one of 300 delegates from 40 countries after rigorous process to participate in the Harvard Project for Asian & International Relations. She presented her model in Entrepreneurship and Technology Track at Harvard University.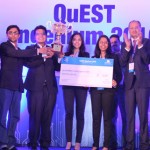 First Prize winner for best project by INGENIUM QuEST Contest.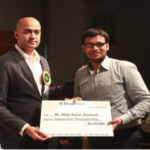 Mr. Karan Shah received corporate sponsored award for the outgoing student with the highest CGPI at S.P.I.T. The award was sponsored by Citius Tech Inc. (Rs. 25,000/-)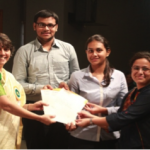 Best Project Award Winners Mr. Karan Shah, Ms. Gauri Dalvi and Ms. Samiksha Gupta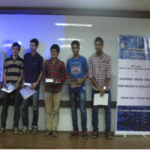 Winners of College level Texas Instruments Analog Maker Contest (Winner received Cronos Watches)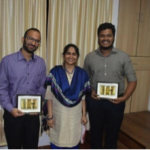 Winners of Seventh Prof. S. M. Parekh Memorial Debate Competition
2015- 2016
Sr.

No.

Name of Students
Activity / Awards Won
1
Gaurang Alat

Winner of Departmental TPP Competition (2015-16)
Quarter finalist at Texas Instruments Innovation Challenge India Design Contest (2015)
Second Runner's Up at Electroworks 2015

2
Ashish Mohanan

Third place in Departmental TPP Competition (2015-16)

3
Anirudh Bhat

Qualified and Completed eYANTRA'15

4
Prathamesh Bhatkar

Quarter Finalist-TIIC IDC-2015
ARM Certified Course on Embedded Systems-2015
Project Competition in Electronics Department-2015-2nd
Quarter Finalist – TIIC IDC 2015
Won 2nd prize in project competition organized by college(SPIT) 2015

5
Kartik Nilkanth Chakole

Creative Head of ESA 15-16
Secured third prize in Intra Departmental Project Competition for Road Crossing System for Visually Handicapped People
Developed a project under IEDC' 2015- Road Crossing System for Visually Handicapped People
Filed patent on Road Crossing System for Visually Handicapped People, 4482/MUM/2015.

6
Falguni P. Domdiya
7
Prasad Gaikwad

TI Analog Maker – Inter College – 1st Place – 2015
Avishkar – National Level – 1st Place – 2016
Certified PLC programmer and SCADA system designer – Prolific Systems and Technologies
Manuscript of paper"Range augmentation in wireless transfer of electricity" selected at IEEE conference, Kochi.
Texas Instruments Innovation Challenge 2015 – Quarter finalist
Presented paper "Range augmentation in wireless transfer of electricity" at national level conference Techxter4.0 at SIESGST, Navi Mumbai.
Project competition at Electronics Department- 1st prize
Completed one month internship at Reliance Dahanu Thermal Power Station

8
Harshit Gandhi

ARM University Program Training Course on Embedded System Design and Programming by Eduvance(Summer Industrial Training In Embedded System) 2015.
Filled a patent for system to enable visually challenged to direct signals 2015.
Secured 3rd rank in intra department project competition 2015.

9
Samiksha Gupta

Participated at Technical Paper Competitions 2016 (ISTE)
First Prize at Technical Paper Competitions 2016

10
Sahil Kabdule

Secured 3rd rank in intra department project competition 2015.
Participated in Texas Instruments Innovation Challenge India Design Contest 2015.

11
 Viraj Malia

IEDC patent filed (2015)
Departmental TPP(1st prize,2016)

12
Harshal Umakant Patil

Quarter finalist in Texas Instruments Innovation Challenge 2015
Won 2nd prize in department project competition 2015
Internship at Sportz Interactive for Sports and Data analysis from June 2015 – July 2015

13
Aniket Pendse

TIIC IDC 2015 (Quarter Finals)
2nd Prize Project Competition (Electronics Department)

14
Kanchi Poddar

Awarded 2nd Merit Prize for College Annual Day 2014-2015 (TE ETRX)

15
Shashank Rane

5th position on national leaderboard of marketing competition 'Wolf of Chalkstreet' 2015
Certificate of excellence in 'Marketing Competitions' 2016

16
Kritika Sabharwal

Certificate of excellence in debates 2015
Winner of University level debate 2015 organized by Chief Electoral Office, Maharashtra
5th position on national leaderboard of marketing competition 'Wolf of Chalkstreet' 2015
On the Board of Directors of of campus company 'Spoint Rewards' 2013-2016
Certificate of excellence in 'Marketing Competitions' 2016
Won inter college debate 'FEVER College Clash' 2016

17
 Hrishikesh Tawade

TI Analog Maker – Inter College – 1st Place – 2015
Avishkar – National Level – 1st Place – 2016
Semifinalist in Eyantra 2015

18
Jay Sunil Trivedi

Mumbai University Chess Competition     2015
Participated ICCICT IPR workshop 2015
IEDC Patent filed with Patent no. Mumbai/4487/2015
Departmental Technical Paper Presentation (1st ),2015
Texas Instruments India Analog Maker (participated) , March 2015
Texas Instruments Innovation Challenge India Design Contest 2015(quarter finals)
Eyantra 2015(Semifinals)
Robocon   2015
Department Level Project Competition (2nd Prize), March 2015

19
Anurag Tulsiram

Filed a patent for my project- Road Crossing System for the physically handicapped.

20
Sheryl William Tuscano

Philanthropy event as a part of Credit Suisse
IT intern at Credit Suisse
Internship at Pro sound Products
All India Winner and Student Ambassador at S P Jain School of Global Management's ASAP help   at their Dubai Campus in December 2015
Third place in Departmental Technical Paper Presentation Competition
Participated and presented paper at International Conference ICONECT'16

21
Madhura Vinod Valvaikar

HEAD of PUBLIC RELATIONS(PR) in ESA during the year 2014-15
Represented Spoint Rewards at National Level at Tata First Dot National Entrepreneurship Competition
Implemented Gesture Control car under Texas Instruments Innovation Challenge India Design Contest 2015

22
Amit Dhamne

First prize in TI Analog Maker Competition
First prize in Avishkar 2016 , Saraswati College of Engineering
Internship in TIFR 2015
Internship in BARC 2015

23
Karan Shah

National level TPP competition – Technomonia – 2016, 1st prize
Best paper award at two conferences NCATE & Spandan 2016
Best final year project award SPIT
Excellence certificate by SPIT for conferences
TI Analog Maker 2015 participant
Second posion at Departmental TPP-SPIT 2016
Circuit Making second position Spectra 2015

24
Sagar d. Shelke

TI Analog Maker – Inter College – 1st Place – 2015
Avishkar – National Level – 1st Place – 2016

25
Aditi Tripathi

Represented college in Ramakrishna Mision
TI Analog Maker 2015 participant
Applied patent for project in IEDC

26
Gauri Dalvi

National level TPP competition – Technomonia – 2016, 1st prize
Best paper award at two conferences NCATE & Spandan 2016
Best final year project award SPIT
Excellence certificate by SPIT for conferences
TIIC Design contest 2015 participant
Second position at Departmental TPP-SPIT 2016

27
Sneha Gajakosh

Worked with an NGO 'ABHYUDAYA' initiative by 'SPJIMR' to teach the underprivileged kids.
TIIDC COMPETITION-2015
Developed a project under IEDC 2014-15 and filed a patent for the same. Patent no. 4486MUM2015.

28
Jugal Gala

2nd Prize at National level street play competition at IIM Bengaluru – 2015
Participated at state level stage play competition at ICT Mumbai – 2015
Director at Rotract Club of S.P.I.T – 2015
TI Analog Maker – Inter College – 1st Place – 2015
Avishkar – National Level – 1st Place – 2016

29
Vaibhav Pulyani

Secured 1st position in 'Striker' at IIT Bombay –TechFest 2015

30
Kapil Rawal, Golappagouda Patil, Sahil Rai

3rd prize in international symposium on IoT

31
Mohit Karandikar,

Chetan Jogi,

Praneet Bala

IEEE symposium demo-it 3rd place

32
Amey C. Thombre,

Saumil Shah,

Ameya Thombre,

Chinmay Upadhye

IEEE symposium demo-it 1st place
Publications By Students
| | | |
| --- | --- | --- |
| Academic Year | Journal | Conferences |
| 2015-16 | 00 | 04 |
| 2014-15 | 01 | 01 |
| 2013-14 | 01 | 01 |
| 2012-13 | 01 | 02 |
| 2011-12 | 01 | 03 |
| 2010-11 | 01 | 06 |
| 2009-10 | — | 05 |
Notable achievements of 2012-13 batch students in academic year (2012-13)
Three teams selected in phase 1 of Analog Design Contest organized by Texas Instruments Bangalore.
Two videos selected in top 25 videos at Analog Design Contest organized by Texas Instruments Bangalore.
Winner of phase 1 at Analog Design Contest organized by Texas Instruments Bangalore