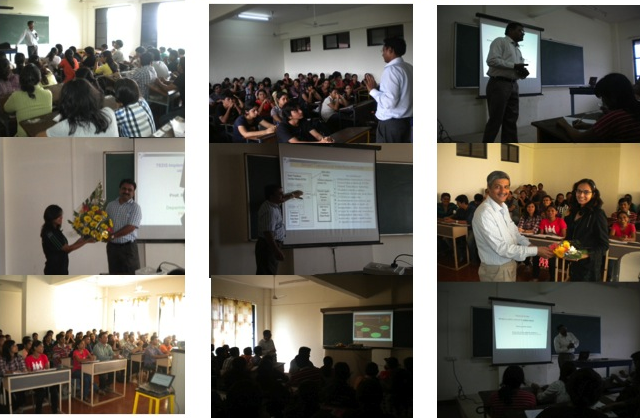 Invited talks (2015-16)
Topic
Speaker
Date
Relevance of POs, PSOs
"Importance of Economics in Engineering"
Mr. Ronak Chokshi and Ms. Debleena Mukhopadhyay

Student, SPJMIR, Mumbai

4th Sept. 2015
PO11

"Management of Intellectual Wealth"
Dr. B. B. Singh

IPR Attorney & Scientific Advisor and Advocate,

High Court, Mumbai

14th Sept. 2015
PSO3
"Transmission Lines and Power Line Carrier Communications (PLCC)"
Mr. Dipak Warade

Dy. Executive Engineer,

Maharashtra State Electricity Transmission Comp. Ltd.

EHV Testing Unit, Panvel

21st Sept. 2015
PSO1
"State Variable Models and State Transmission Equation"
Prof. Dattatreya Sawant

Assistant Professor,

M.P.S.T.M.E,Mumbai

16th March 2016
PSO2
" Finite Element Method (FEM)"
Prof. Mrs. Megha Janbandhu

Associate Professor,

Mechanical Engg. Department,

Sardar Patel College of Engineering, Andheri (west)

21st March 2016
PSO1
"Bulk Lithography and MEMS Device Characterization"
Dr. Kiran Bhole

Associate Professor,

Mechanical Engg. Department,

Sardar Patel College of Engineering, Andheri (west)

23rd March 2016
PO5
"Environmental Studies: E- Waste Management"
Dr. Hansa Jeswani

Associate Professor,

Sardar Patel College of Engineering, Andheri (west)

23rd March 2016
PO7
" Biomedical Electronics- Medical equipments, Physiology of Brain, Safety aspects"
Dr. Manali Godse

Professor & HOD,

D.J.Sanghvi College of Engineering,

Vile Parle, Mumbai

28th March 2016
PO6
Importance of Economics in Engineering
Deblina Mukhopadhyay (S.P.Jain Institute of Management) and Ronak Chokshi (MuSigma)
4th Sep. 2015
PO11
"DIPLAB demonstration"
Mr. Jaideep Mehendale and Mr. Mandar Joshi

Wavelet Technologies pvt. Ltd.

30th Jan. 2015
PO5
"Use of Electronic Equipments"
Prof. G. T. Haldankar
Asst Prof
9th Oct. 2015
PSO1
TSE 2015 Troubleshooting contest
Prof. Shailesh Rokade

Assistant Prof

14-15-16 Sep 2015
PSO1
"Control System Design using State Space Variable"
Prof. D. S. Sawant

Asst. Prof.

Mukesh Patel School of Technology Management & Engineering (MPSTME),Mumbai

22nd Jan. 2015
PO2
TSE 2015 Troubleshooting contest
Prof. P. V. Kasambe

Assistant Prof

14-15-16 Sep 2015

PSO1

"fabrication of micro-Electro-Mechanical Devices"
Prof. Subhash Lokre, IITB
Sept 2015
PO4
"Pneumatic and Hydraulic System"
Prof. B.S. Chavan

Asst. Prof.

DBIT, Mumbai

16th Feb. 2015
PO1
"Scope of VLSI engineering in Indian Industry"
Dr. Jonathan Joshi( Ph.D. University of Southern California)
25th March 2015
PSO1
Invited talks (2014-15)
Topic
Speaker
Date
Need of Electronics in Industry for Electronics Engineer
Mr. Sanjay Chaudhari, Director

Electronics Study Center, Jalgaon

19th August 2014
DSP Application and Embedded Product Design
Mr. Subodh Khanolkar

Design Enginner

AGV Systems Pvt. Ltd, Ambernath

5th Sept. 2014
Programmable Logic Controller based Application
Mr. Ajit Kumar K. T.

Training Superintendent,

Anglo Eastern Maritime Academy

11th Oct. 2014
Control System
Prof. D. S. Sawant

Asst. Professor, MPSTME

10th Jan. 2015
DIPLAB demonstration
Mr. Jaideep Mehendale and Mr. Mandar Joshi

Wavelet Technologies pvt. Ltd.

30th Jan. 2015
Pneumatic and Hydraulic System
Prof. B.S. Chavan

Asst. Prof. DBIT, Mumbai

16th Feb. 2015
Applications of VLSI
Dr. Jonathan Joshi

CEO Eduvance

25th March 2015
Invited talks (2013-14)
Topic: Fundamental and application of oxide based memristor
Speaker: Abhishek Sharma, Research Assistant, Carnegie Mellon University
Date: 2nd Jan 2014.
Topic: Industrial automation
Speakers: Prolific Systems & Technologies Pvt. Ltd.
Date: 24th Jan. 2014.
Topic: Biomedical Instrumentation and Signal Processing
Speaker:  Dr. Satish T. Hamde, Professor and Dean Academics, S.G. G. S.I.E. & T. Nanded
Date: 31st Jan. 2014.
Topic: Visual TCAD
Speaker: Mr. Amit Saini, Cadre Design System, Noida, New Delhi
Date: 26th July 2013
Topic: Semiconductor Devices and Circuits: Junction Analysis
Speaker: Prof. M. B. Patil, IIT Bombay
Date: 8th July 2013
Topic: Introduction to Latest technologies
Speaker:  Dr. Jonathan Joshi, CEO, Eduvance, Mumbai
Date: 17th July 2013.
Topic: How to carry out research work
Speaker: Dr. Sanjay M. Gulhane, Chairman, Board of Studies (Elect., Ind. Elect. &App. Elect.), SGB Amravati University
Date:  2nd January 2014
Guest Lectures / Invited Talks (2012-13)
| | | |
| --- | --- | --- |
| Topic | Resource Person | Year |
| Applications of self organizing Map Techniques | Biplab Banergy,  Research Scholar, CSRE, IIT Bombay | Jan 2013 |
| High Speed On-Chip Interconnect | Kadayinti Naveen, Research Scholar, IIT Bombay | Jan 2013 |
| Embedded Systems and Real Time Programming | Jinu Jayachandran, Research Assistant, WEL Lab, IIT Bombay | Jan 2013 |
| Simulation of Microwave Structures with IE3D | Sanket Yavalkar, Research Scientiest, SAMEER | Jan 2013 |
| Applications of Analog Integrated Circuits | D. V. Bhoir, HOD CRCE, Mumbai | Aug 2012 |
| Linearlization of Nonlinear System | Soham Chakrabarty, Research Scholar, System & Control Engg. IIT Bombay | Aug 2012 |
| Higher Level Control of Induction Motor | B. B. Pimple, Research Scholar, IIT Bombay | Aug 2012 |
| Device Physics and Simulation | Oves Badami, M.Tech Microelectronics Student IIT Bombay | July 2012 |
Guest Lectures / Invited Talks (2011-12)
| | | |
| --- | --- | --- |
| Topic | Resource Person | Year |
| TEDS ANN Design using VLSI | R. N. Duche, Research Scholar, VJTI, Mumbai | Jan 2012 |
| Project Presentation "Do's and Don'ts" | Pratibha Dumane, HOD, DBIT, Mumbai | Feb 2012 |
| Embedded Systems Overview | Prasad Joshi, HOD, DJSCOE, Mumbai | Feb 2012 |
| SCADA- Concepts and Applications | Pratibha Dumane,  HOD, DBIT,  Mumbai | Feb 2012 |
| Variable Frequency Drives | K. B. Bhatt. Senior Project Manager, Technova India Pvt Ltd. | Mar 2012 |
| Applications of VHDL in Industry | Uday Pandit Khot, HOD, TSEC, Mumbai | Jan 2012 |